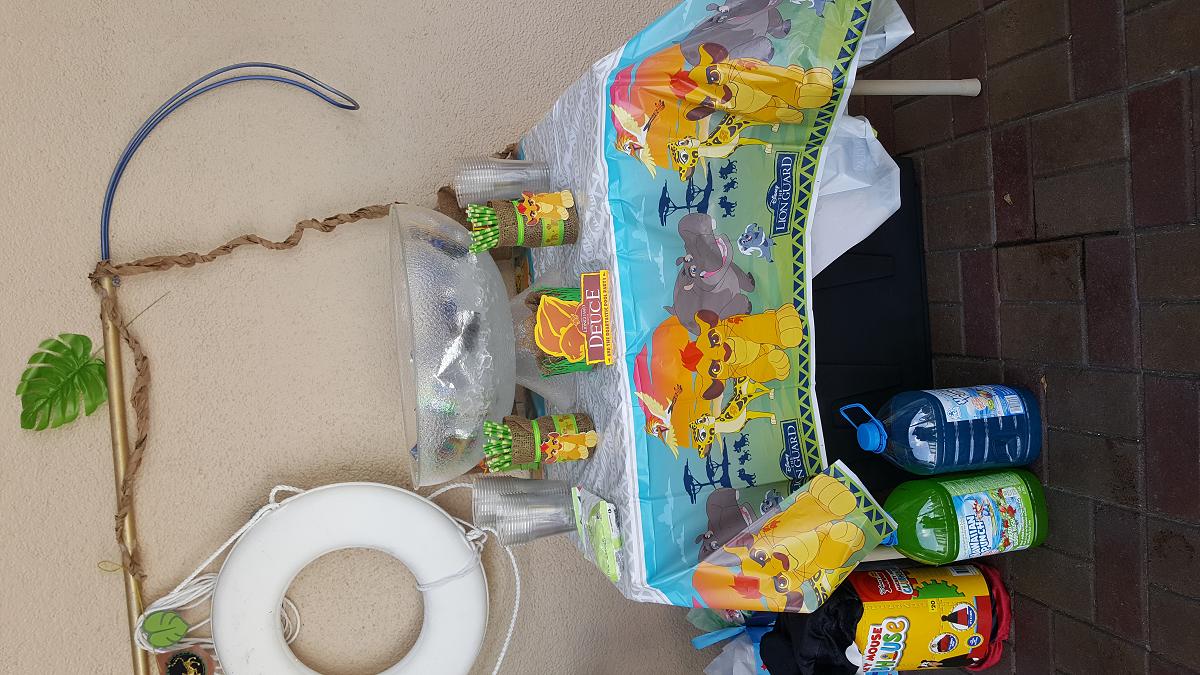 When I initially started planning my son's party, there of course was a ton of ideas with lots of different directions to go! So I really had to narrow down the "style" of the party. Since we were having a pool party, I decided to theme it after the watering hole. 
How the heck do you do that?

Well, firstly, this is one of my budget parties and we HAD to have a budget. I am notorious for my bargain hunting and buying. Normally I will not buy things if they are not on sale or clearance, ESPECIALLY for kids parties! It may not look like much, but when you start to add up all the tiny details, it adds up VERY quickly!

One of the good sides to all this, is that I am computer trained, meaning, I spent way too much money to learn how to make stuff on a computer. So I first started out making all the invites, fb event invite and party décor that I would need on my thinking machine.
 Fortunately I have a Silhouette Cameo (the 1st edition but it still works great!), and cut several different shapes and sizes of leaves to use throughout my design and to attache to these really cool vines I made out of paper bags (yes, brown paper bags!). Add in some custom cut Lion Guard tattoos using gold tattoo paper, signs, banner, decals for cups and boom. We are on our way!


Next, I felt we needed some center pieces and tissue paper numbers, not a whole lot as we did't throw a big party, so I made 3 small for the center pieces and 1 large one for my custom built Pride Rock. The end result was so amazing.
Most of the themed stuff, such as plates, napkins and plastic table cloths and Lion Guard animals I found on sale at Party City, Michael's or The Dollar Tree but to be honest, I had gotten light and dark green napkins, plates, table cloths and cups and they were perfect. So we probably COULD have done without the themed supplies, but it did add something so hey, why not!
To top it off, I ordered custom made cookies by Julies Sweet Treats and it really tied it together.
So in a nut shell, you see the finished design below.