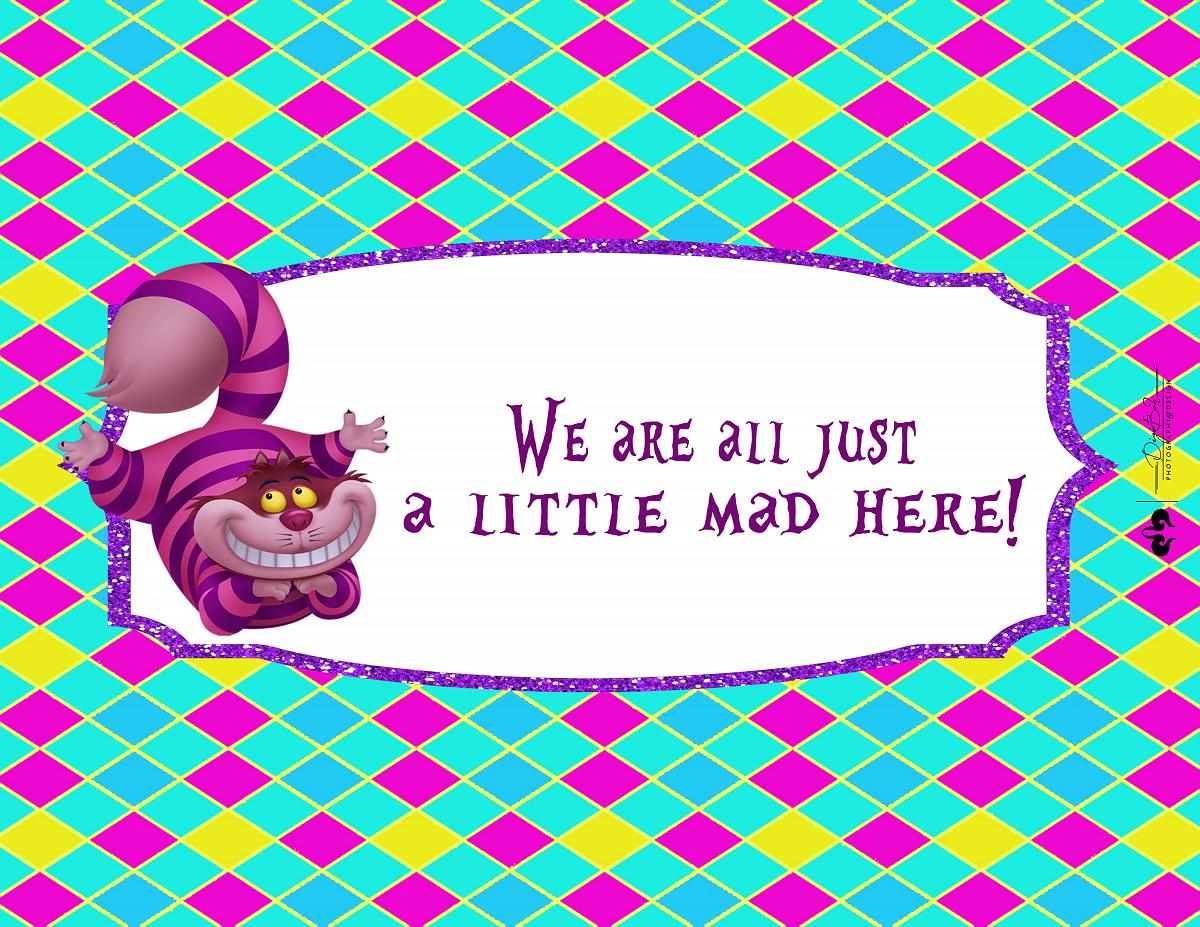 Yes, yes we ARE all a little mad here!!

This was a task that truly was a labor of love! Where to start…

Every year I ask the kids what themes they want to do for their birthdays. Usually I ask this in advance so I can keep a look out for sales and items that could be used for decorations and then can determine what I need to make. Well, when I asked my ready-made what she wanted to do for her 10th birthday, she said Alice in Wonderland! I can't tell you how EXCITED I was, being it's one of my favorite Disney movies, to do all the décor for this one. 
Now, I literally didn't even think to take photos of my process, AT ALL! As an artist, when you get so into the process, you often forget to do some of the small, yet beneficial things you should do while creating. LIKE TAKING PHOTOS!!! So I'll be explaining what I did, with the finished product of images.
You can see more of this and others I have done on my instagram @digiboh
Let's Talk Desert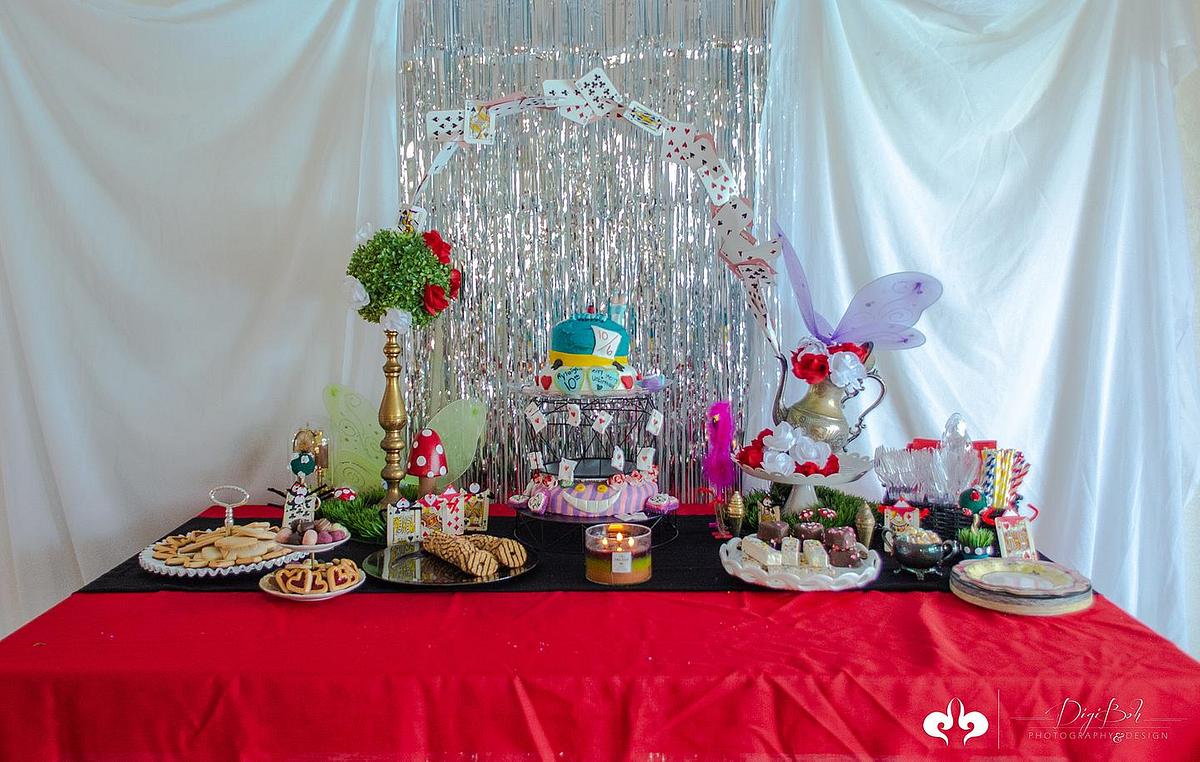 This was such a cool table to make. It was my second time making one, the 1st was a baby shark themed that I'll link to when I get it up! The card solders, the tea kettle spitting cards, large butterflies! It all came together so well.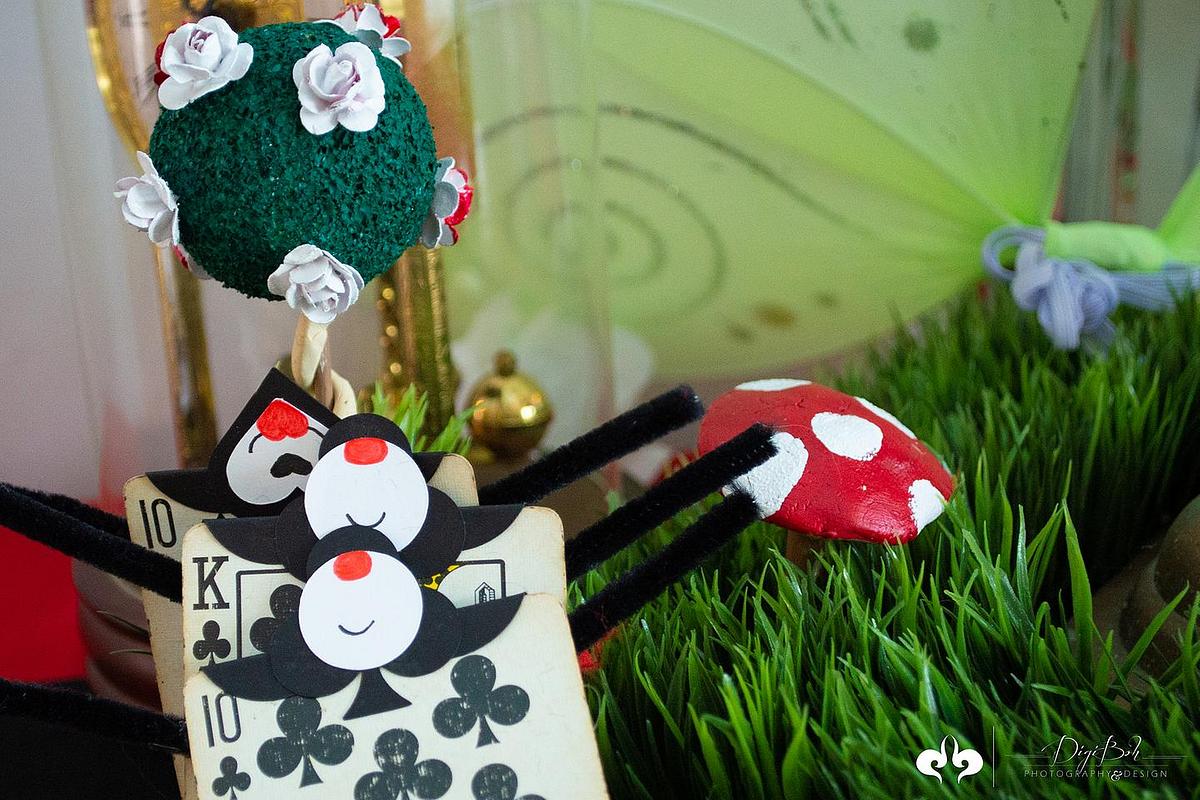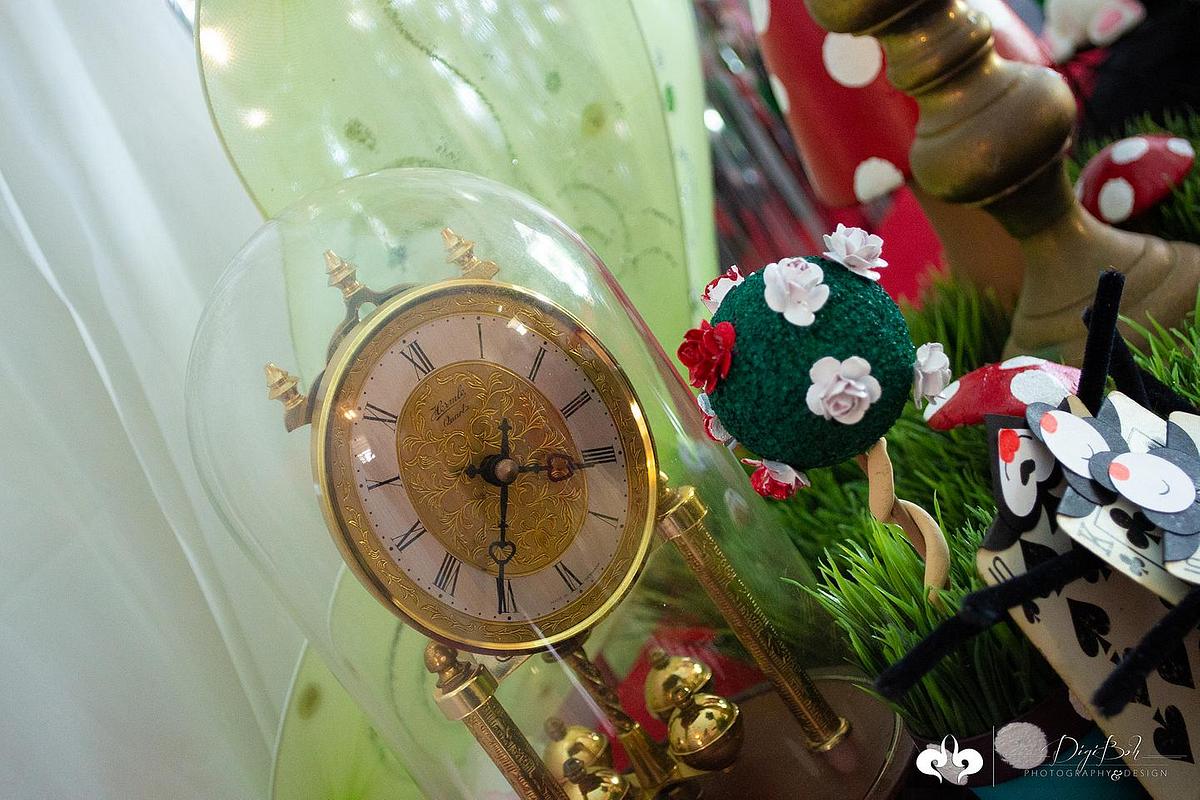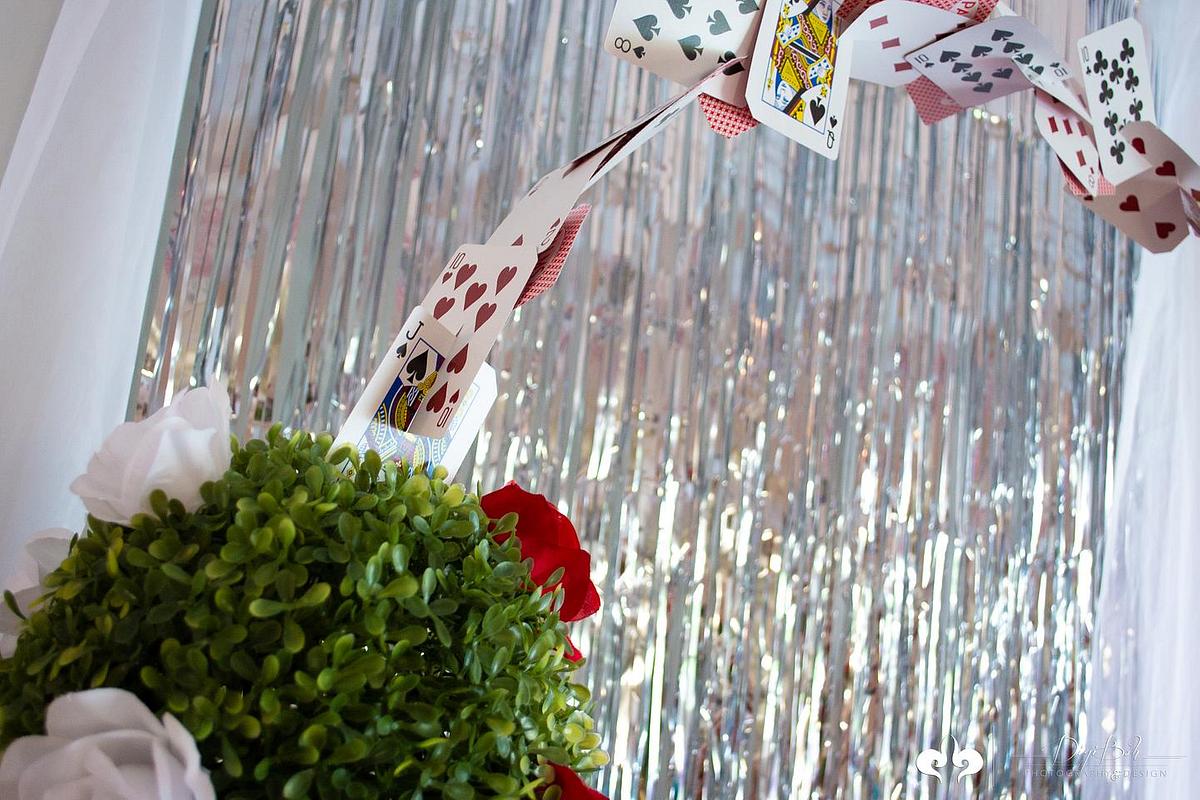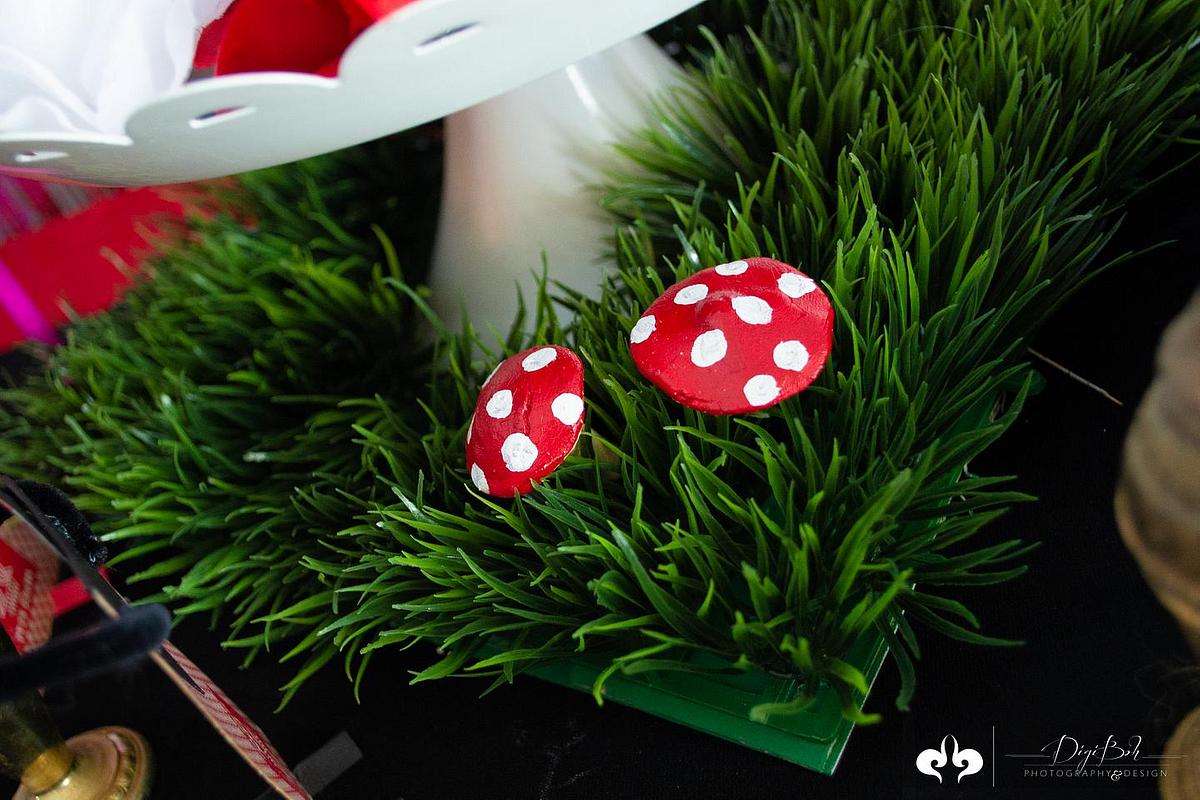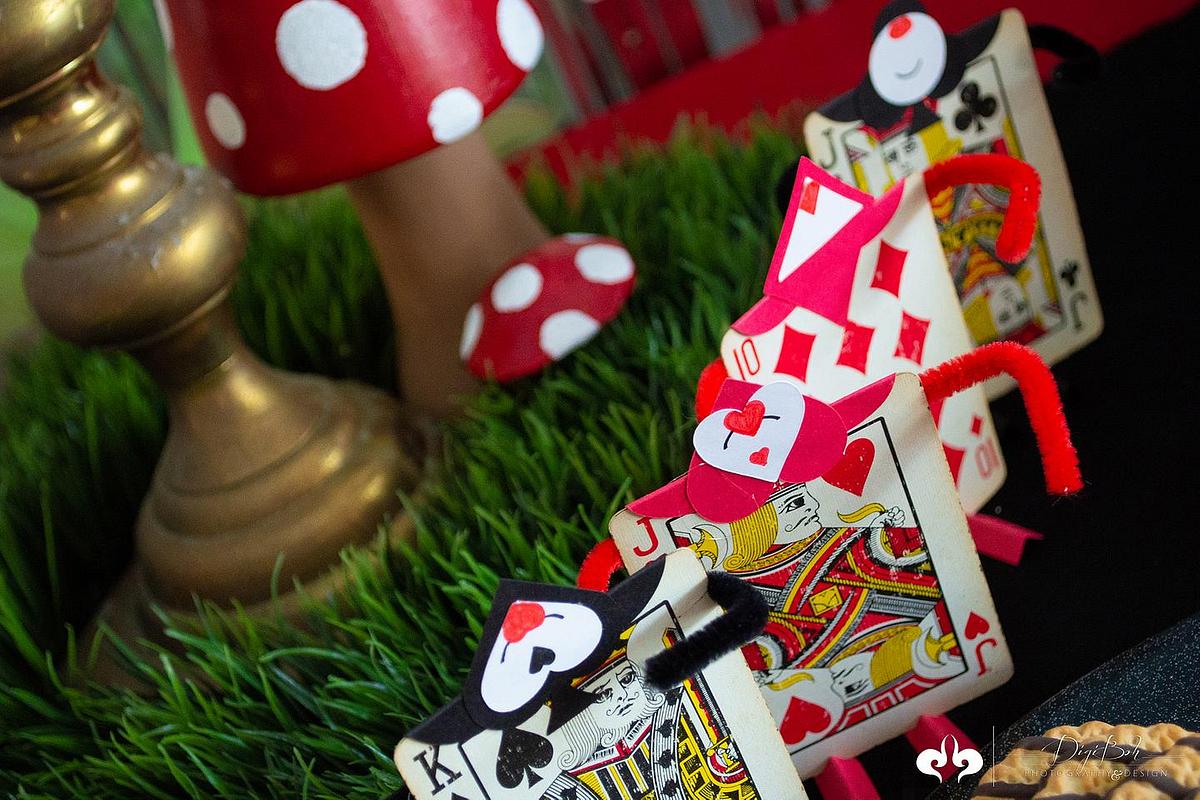 On this table I probably had a good portion of the items. I already had the cards and the fake grass I had gotten from Michael's Crafts seasonal grab bags, same for the red and white roses. For the faces of the cards, I'm a paper ninja with my #silhouettecameo, so I was able to cut out all the shape designs and then drew the actual faces on the white portion of the paper (I also had the paper on hand but can be easily found at any craft or dollar store). The silver tea kettle, I found at a thrift store, and used light weight Aluminum wire, more of the cards I had on hand and lots of hot glue t make the "spitting kettle". All but one of the mushrooms were hand made with sculpty clay, baked and painted. Most, if not all, of the trays, clocks and décor were found at the dollar store or a thrift store.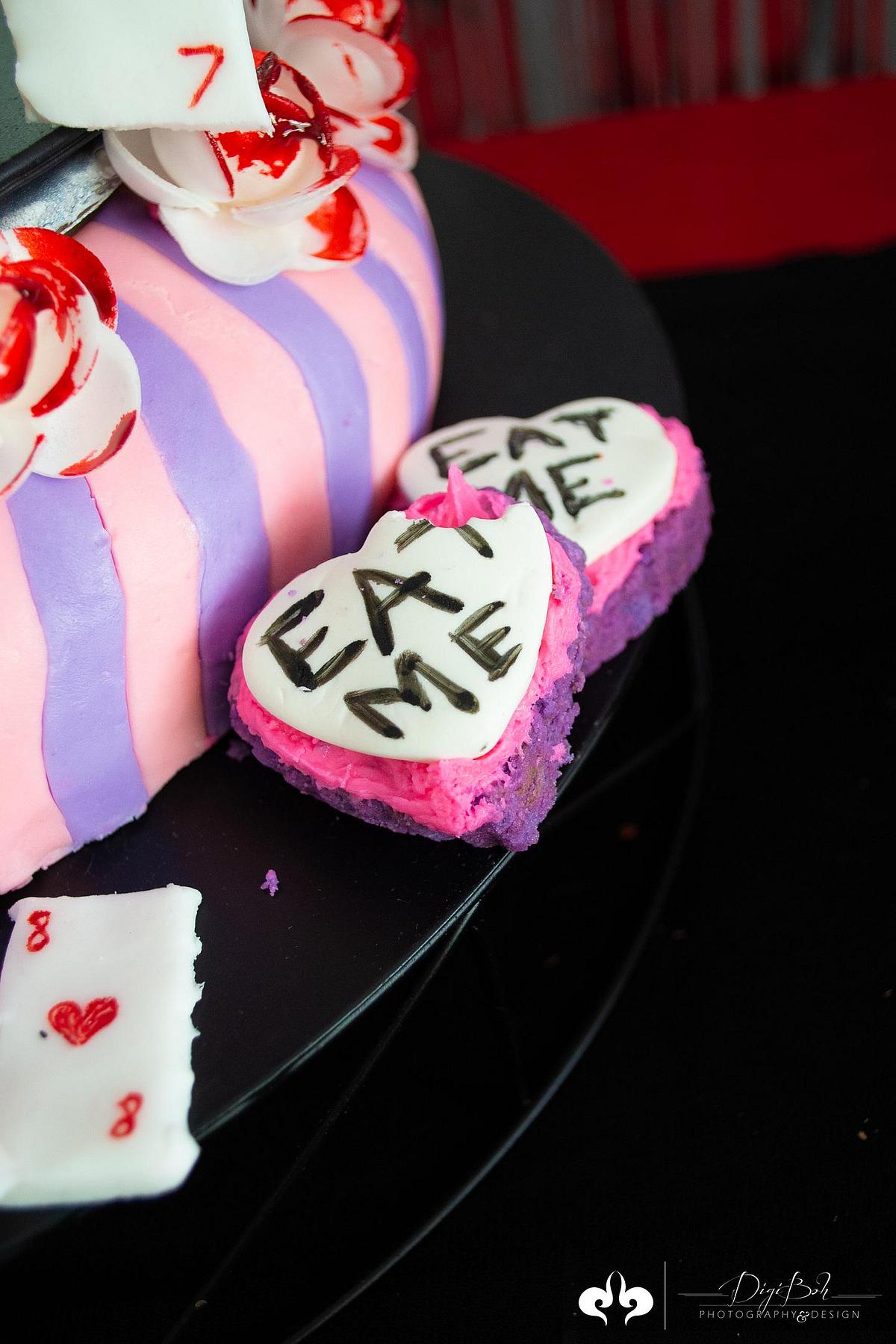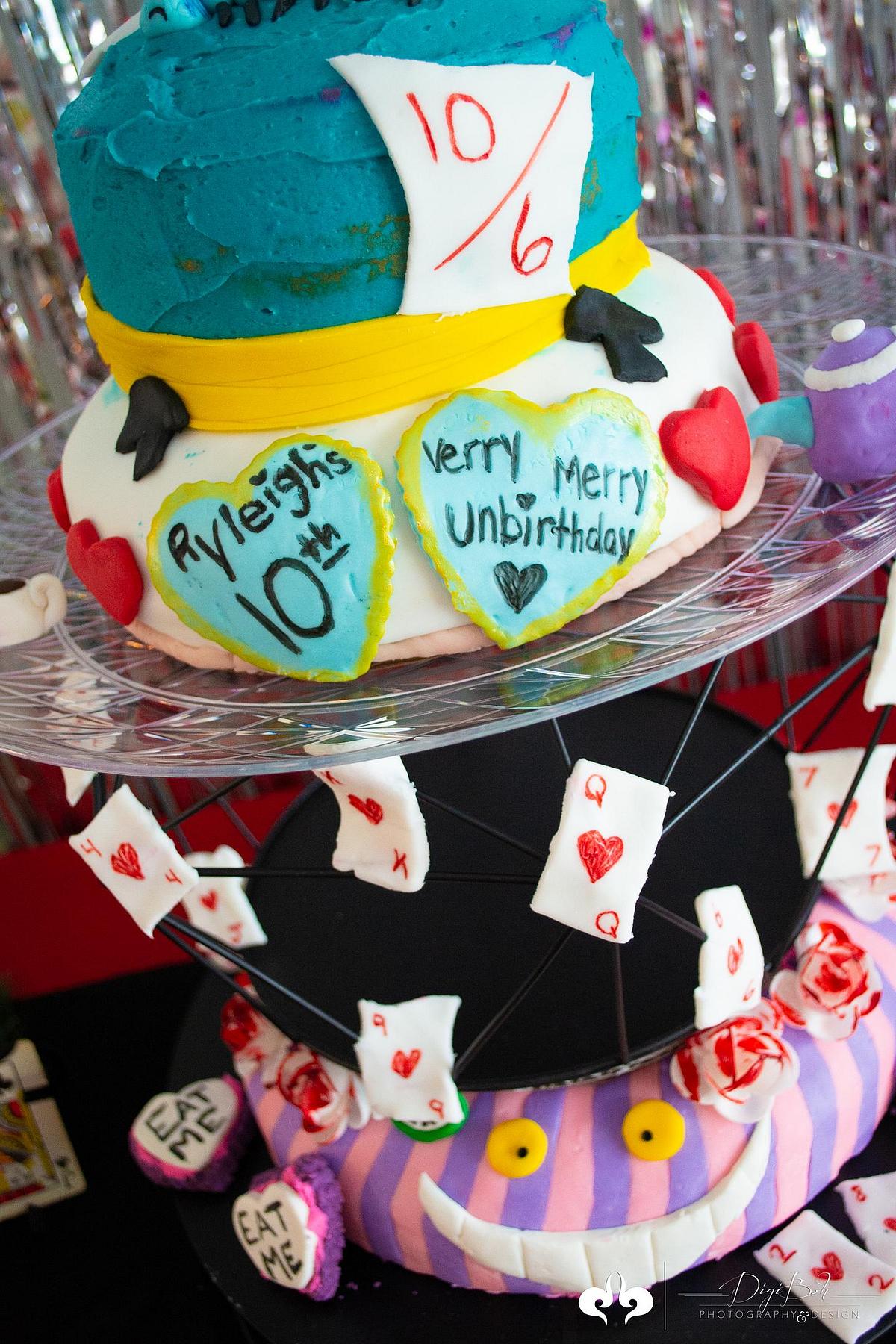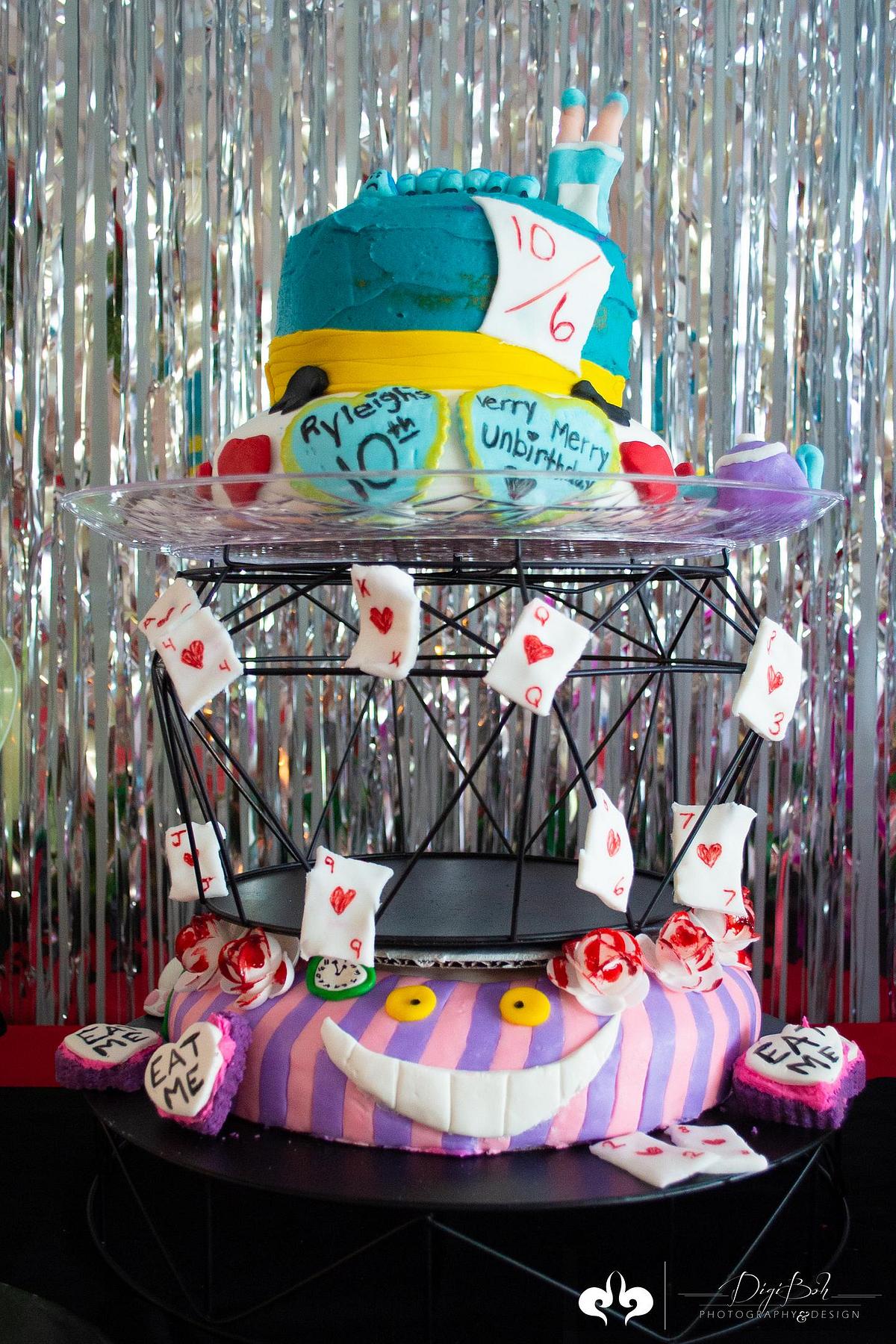 The cake was a nice addition to the table! It was designed and baked by a friend and we used a cake stand that I found on sale at Joanns!
Tea Time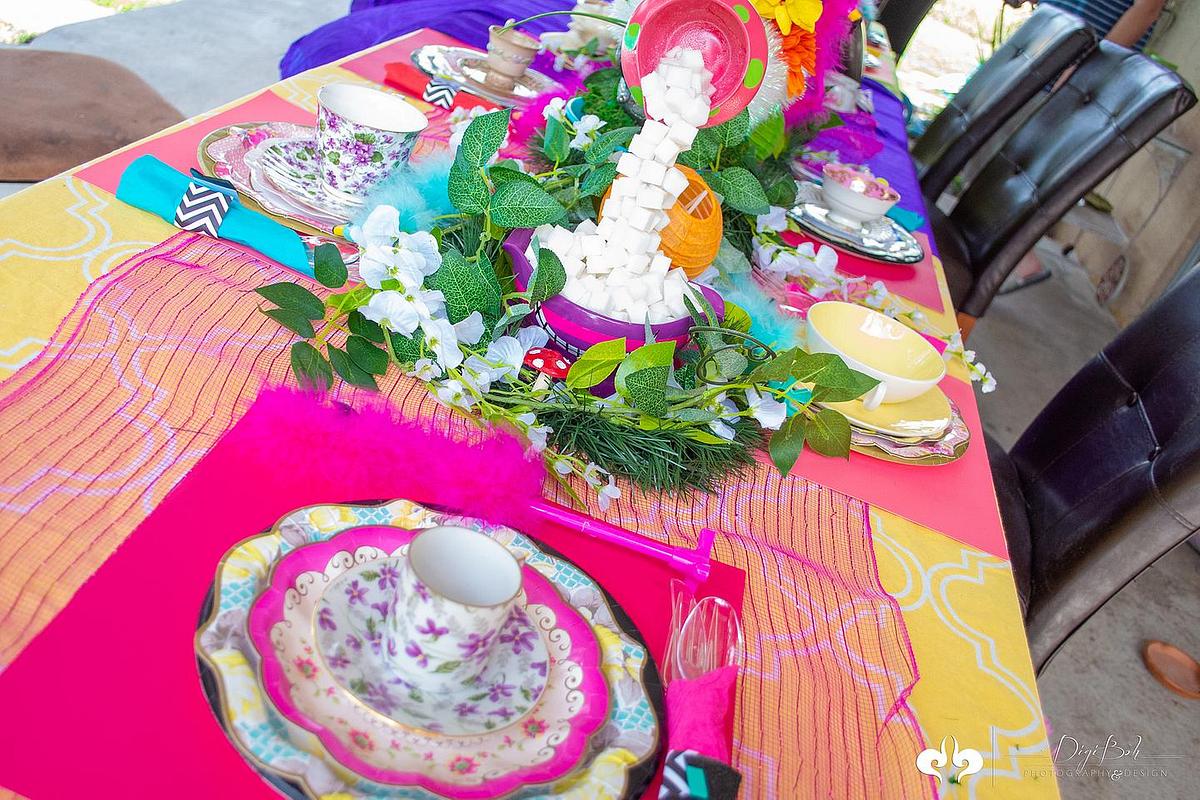 This table what the all time consuming monster! You might be asking, how?? Fabric, flowers, tea cups...how hard can that be? Well, most of the arrangement's you see below are actually custom painted to fit the image I had in my head then arranged. Because a can of spray paint is a lot cheaper then buying the flowers. Now, I did have all the flowers you see in this pictures, but again, I got all of them from Michaels seasonal grab bags, so they cost me next to nothing to get. I found all the plates you see on Amazon, that was probably my biggest expenditure per item and all the tea cups and saucers were the second most expensive though I did get those from different thrift stores as well. Oh and those topiary Boxwood balls, THEY were actually the most expensive thing I bought for this party but let's not focus on those!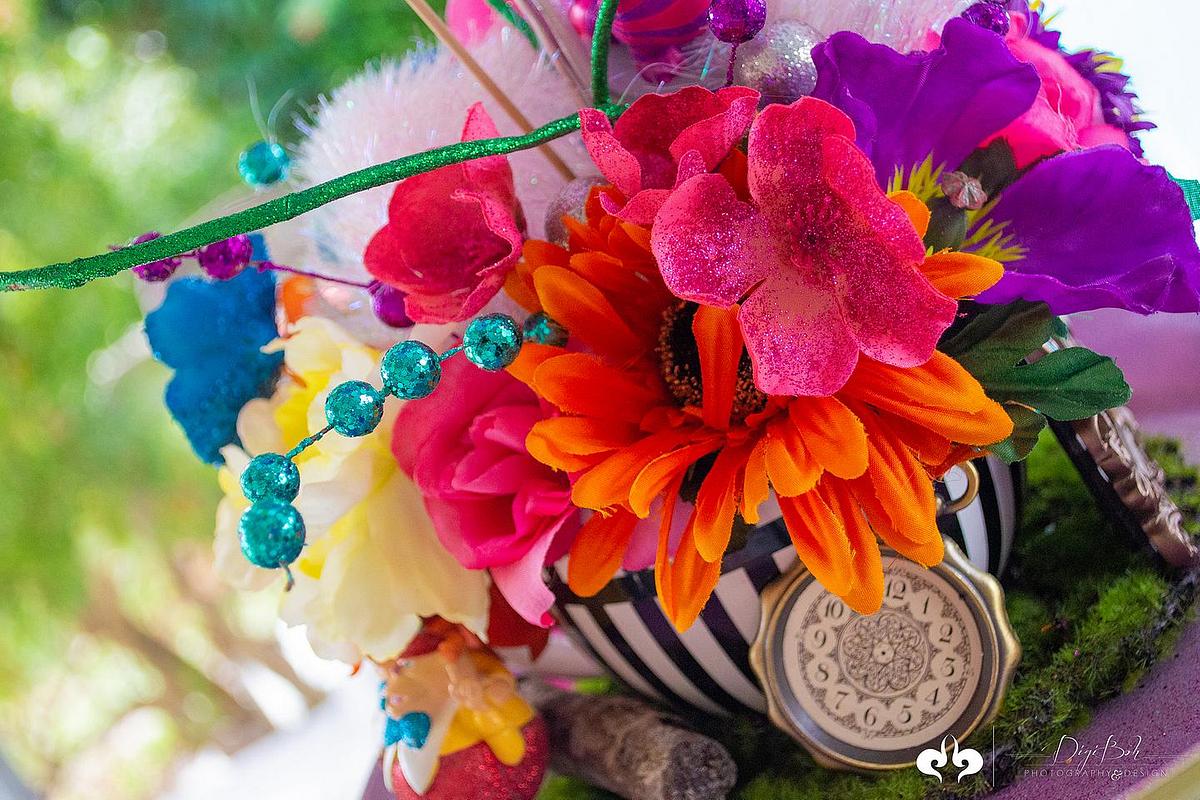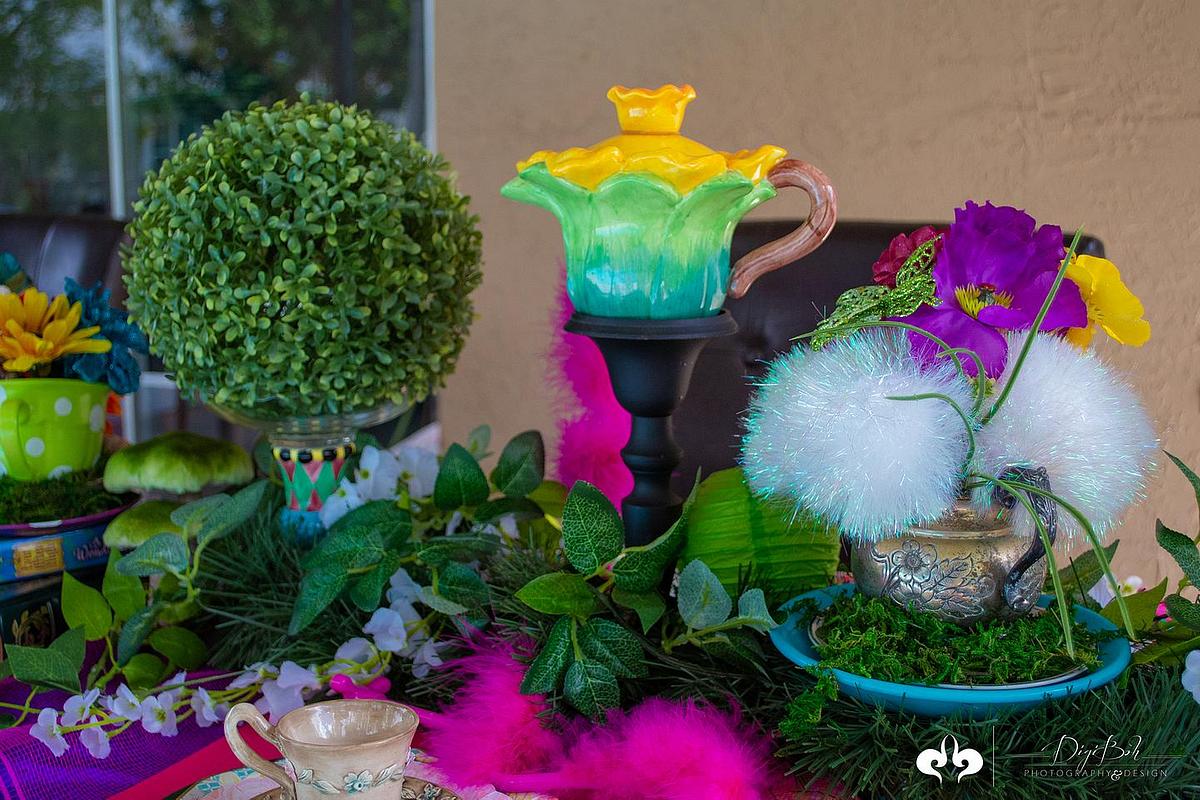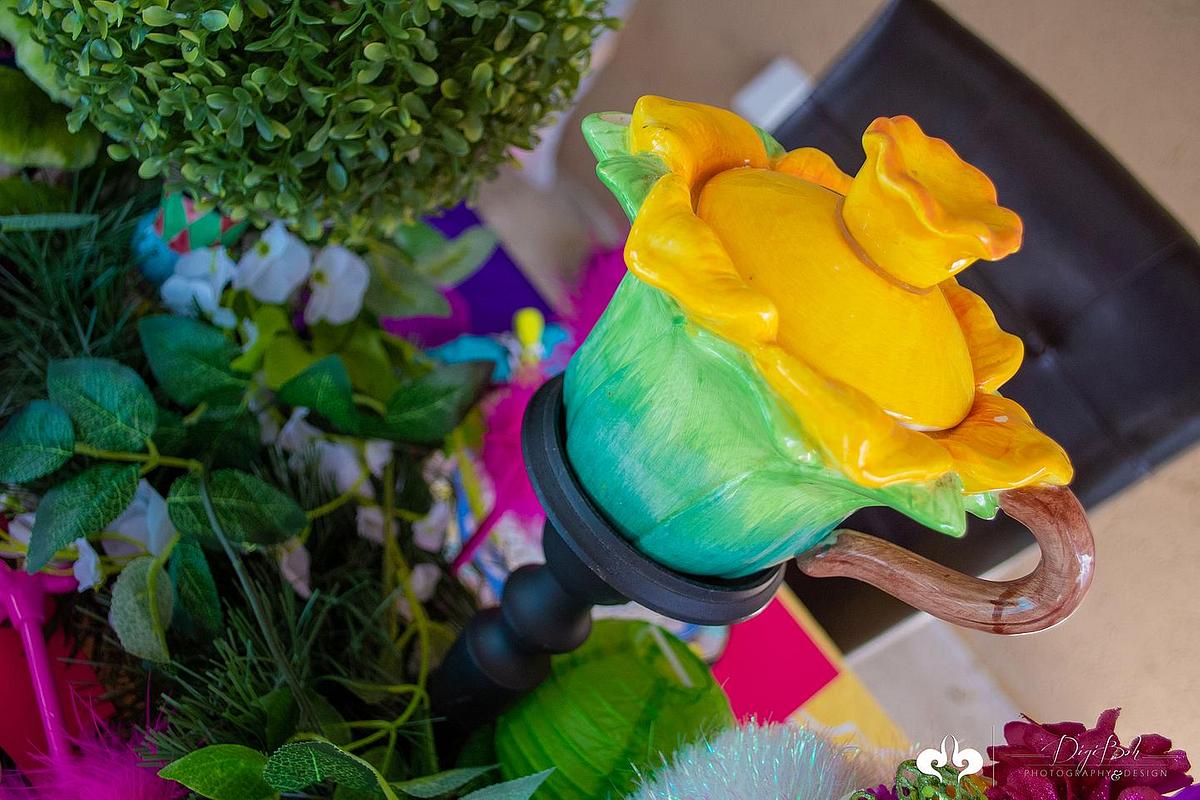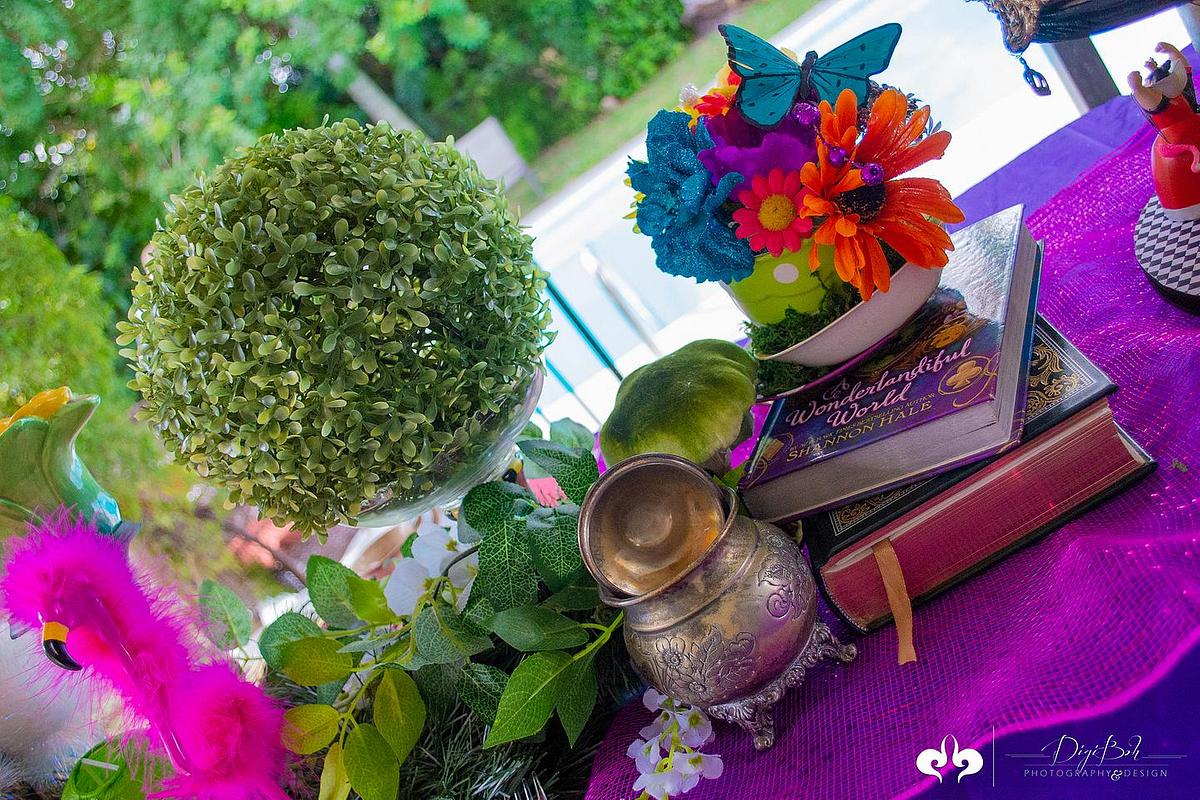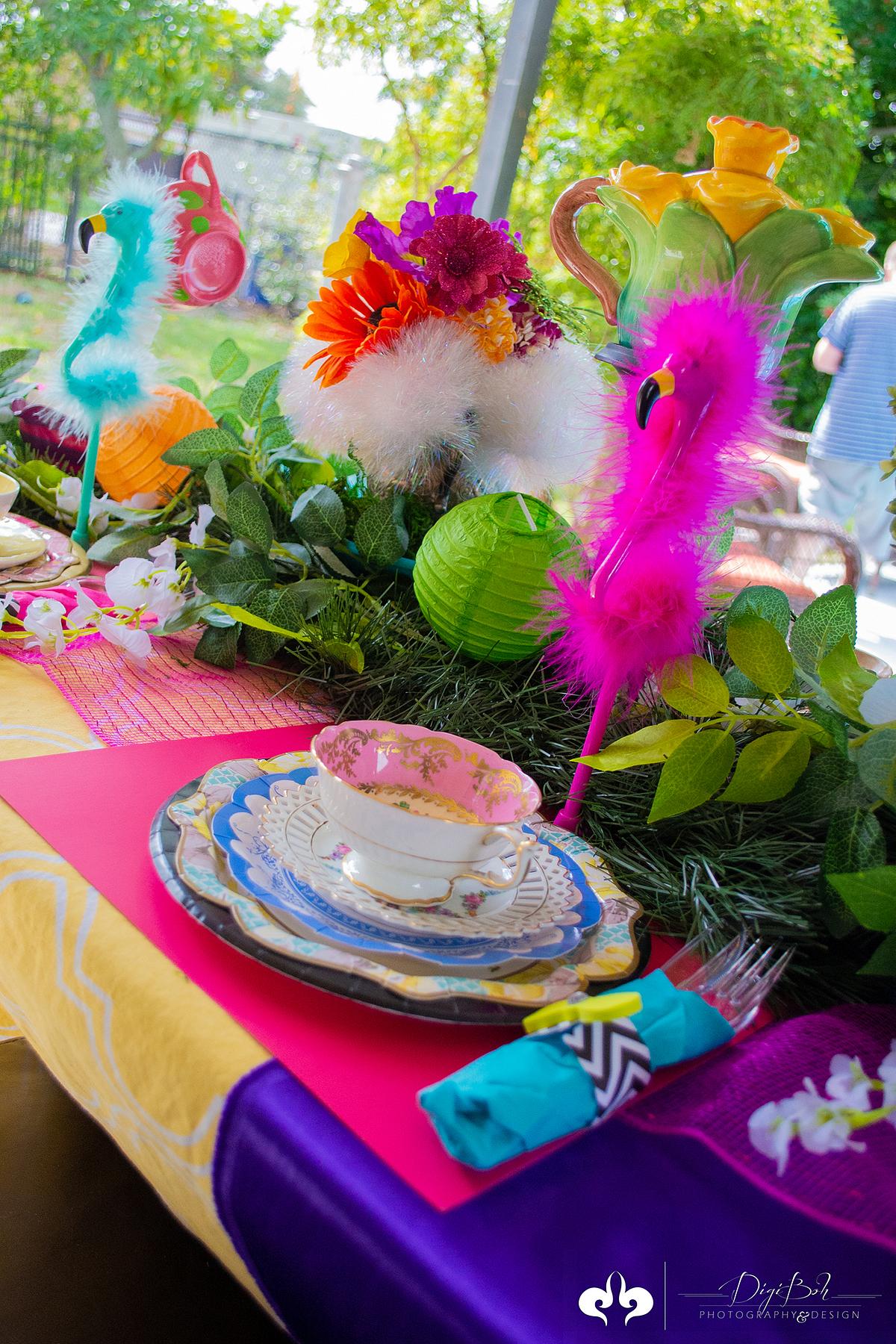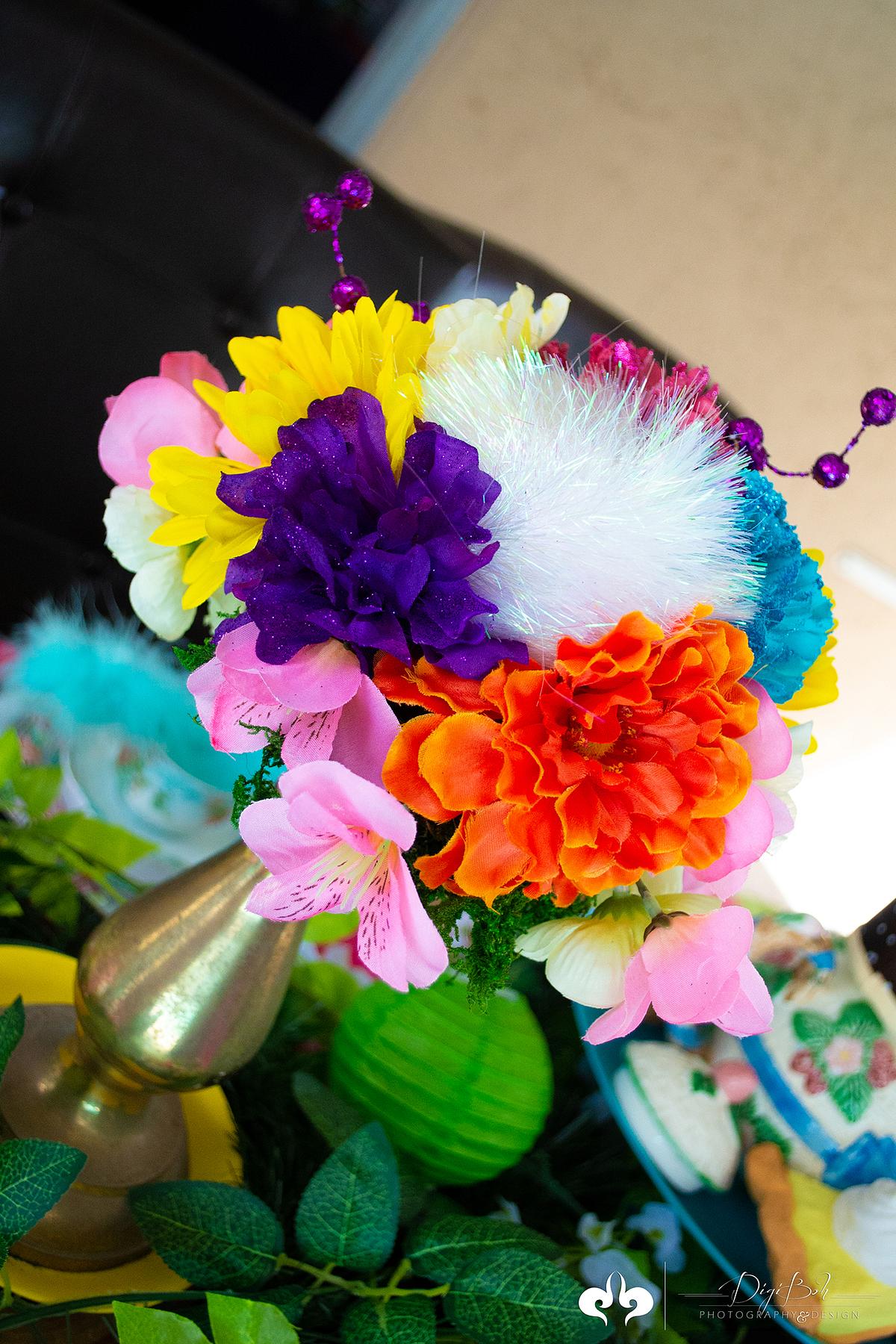 This center piece is one I can say I am so proud of! I found the figures on ebay for a decent price and utilized all things I had lying around in addition to the flowers and my paper ninja skills. I think one of the coolest features is this mirror! I actually was stuck and it really helps to have other artistic and creative friends, they seem to help when you're blocked! =) I custom made the Hatter Hat, painted the cup, sculpted the tree trunk and made all the trees. When I tell you a labor of love, it's a LABOR OF LOVE!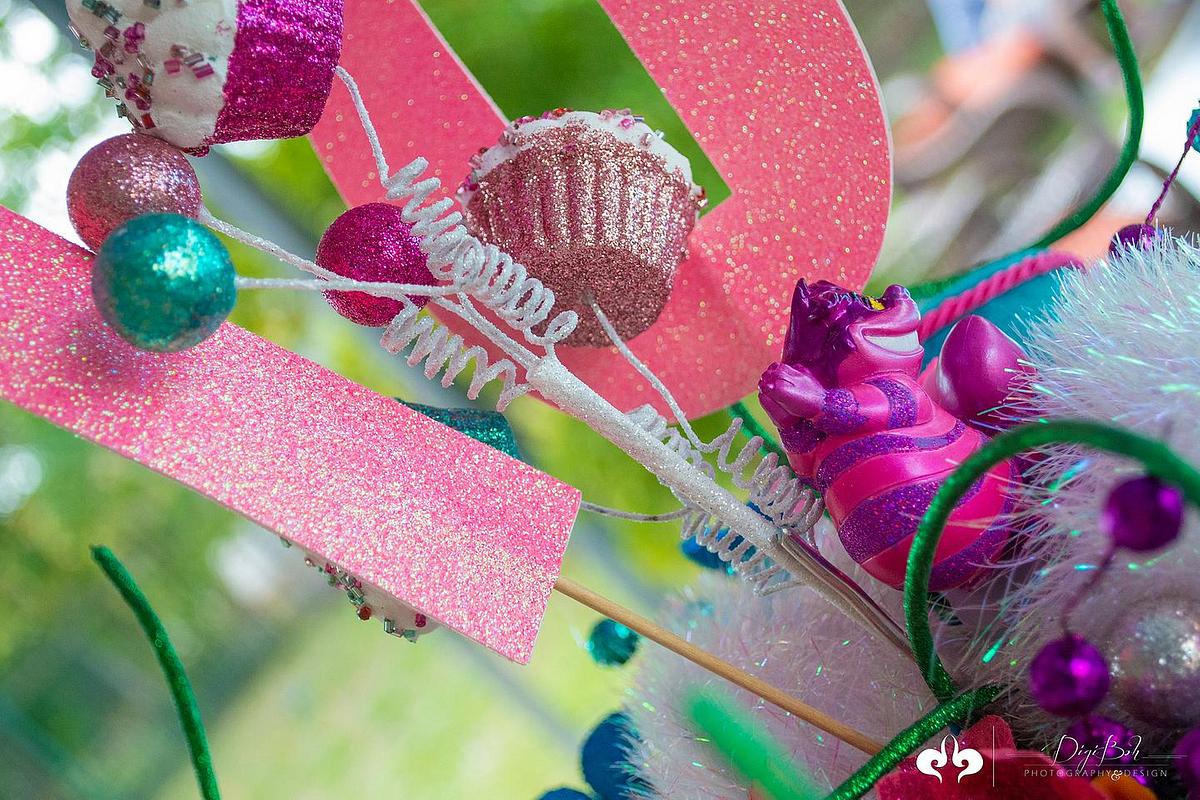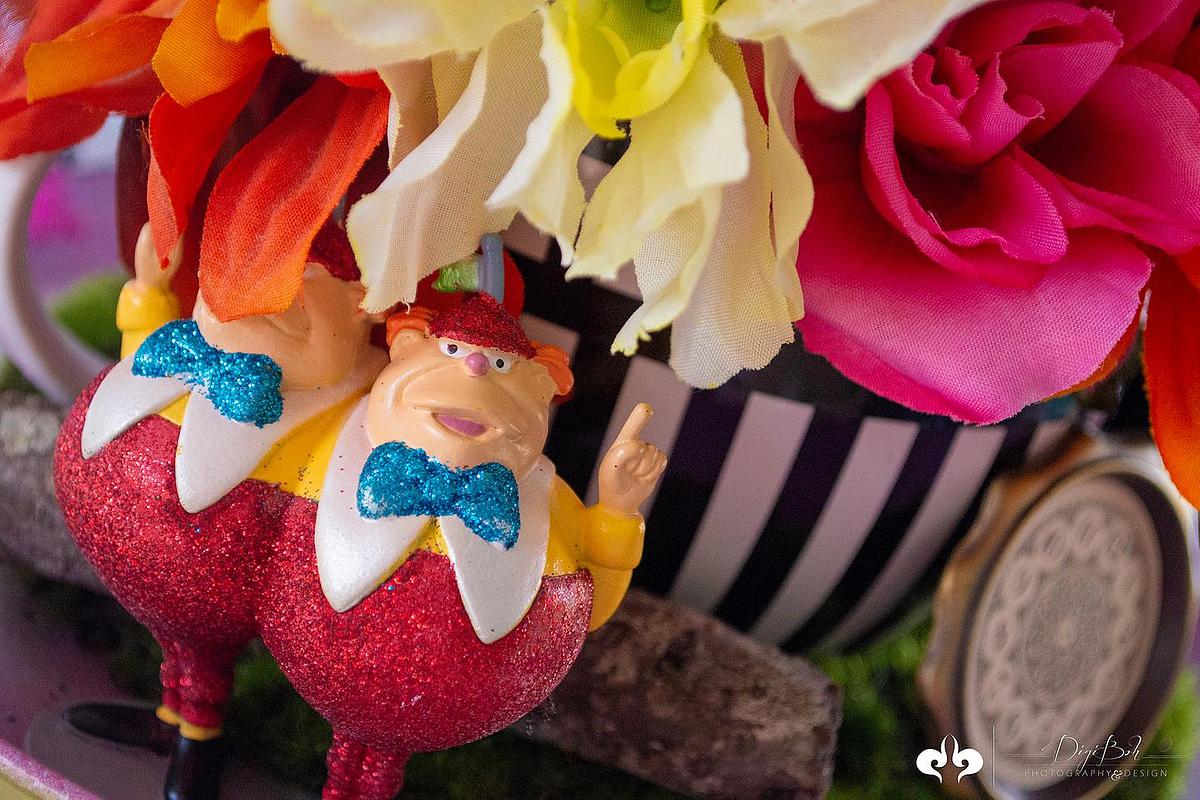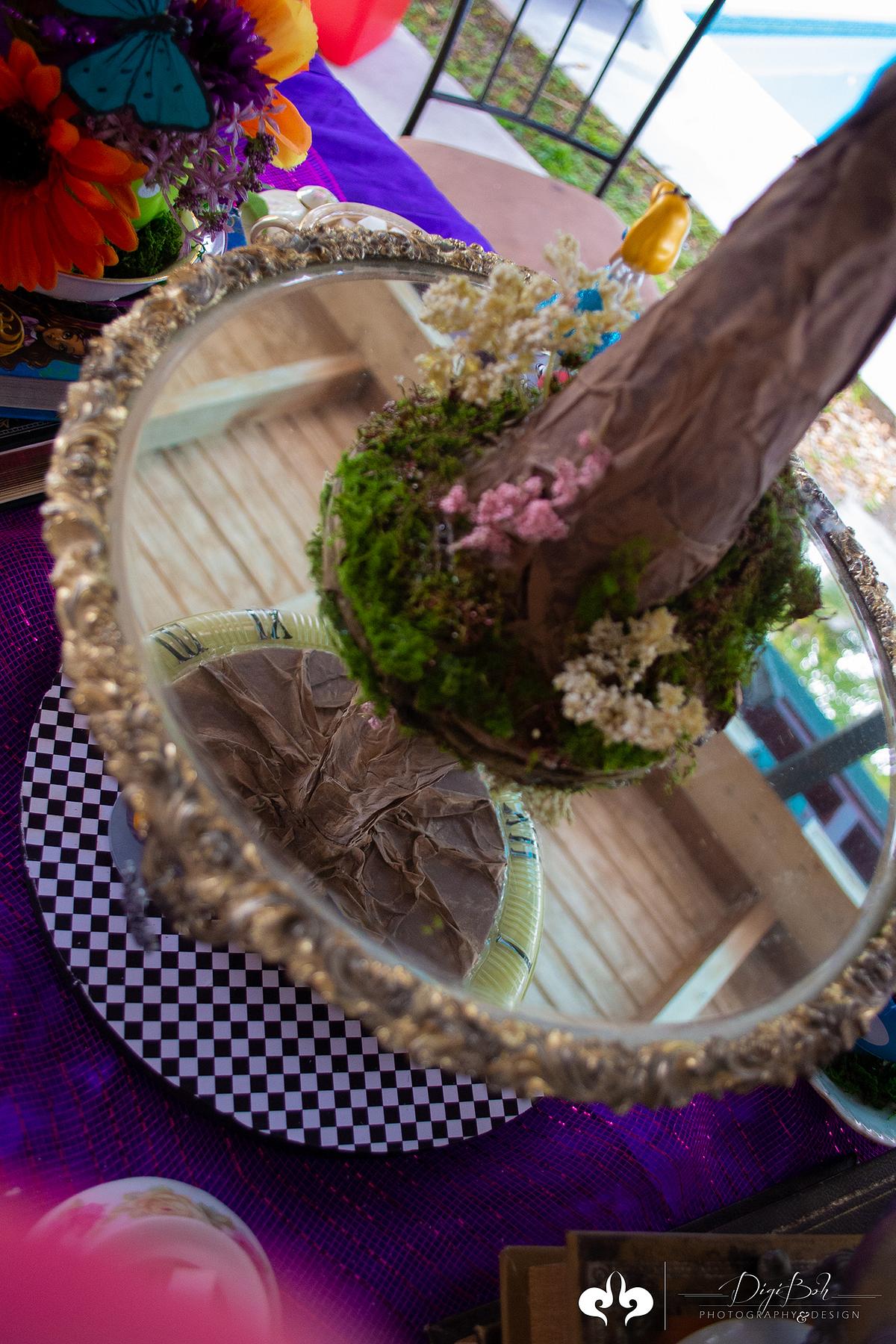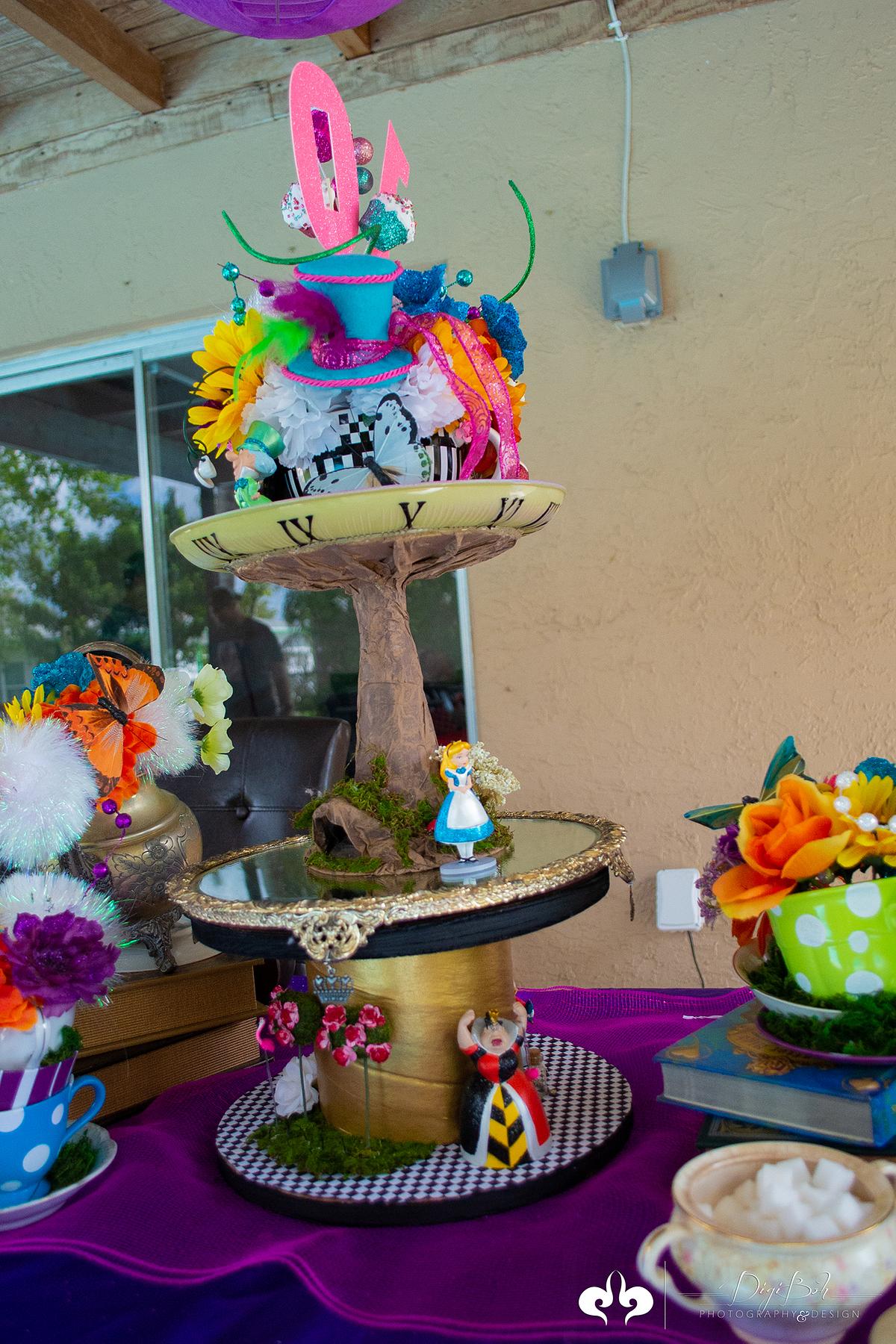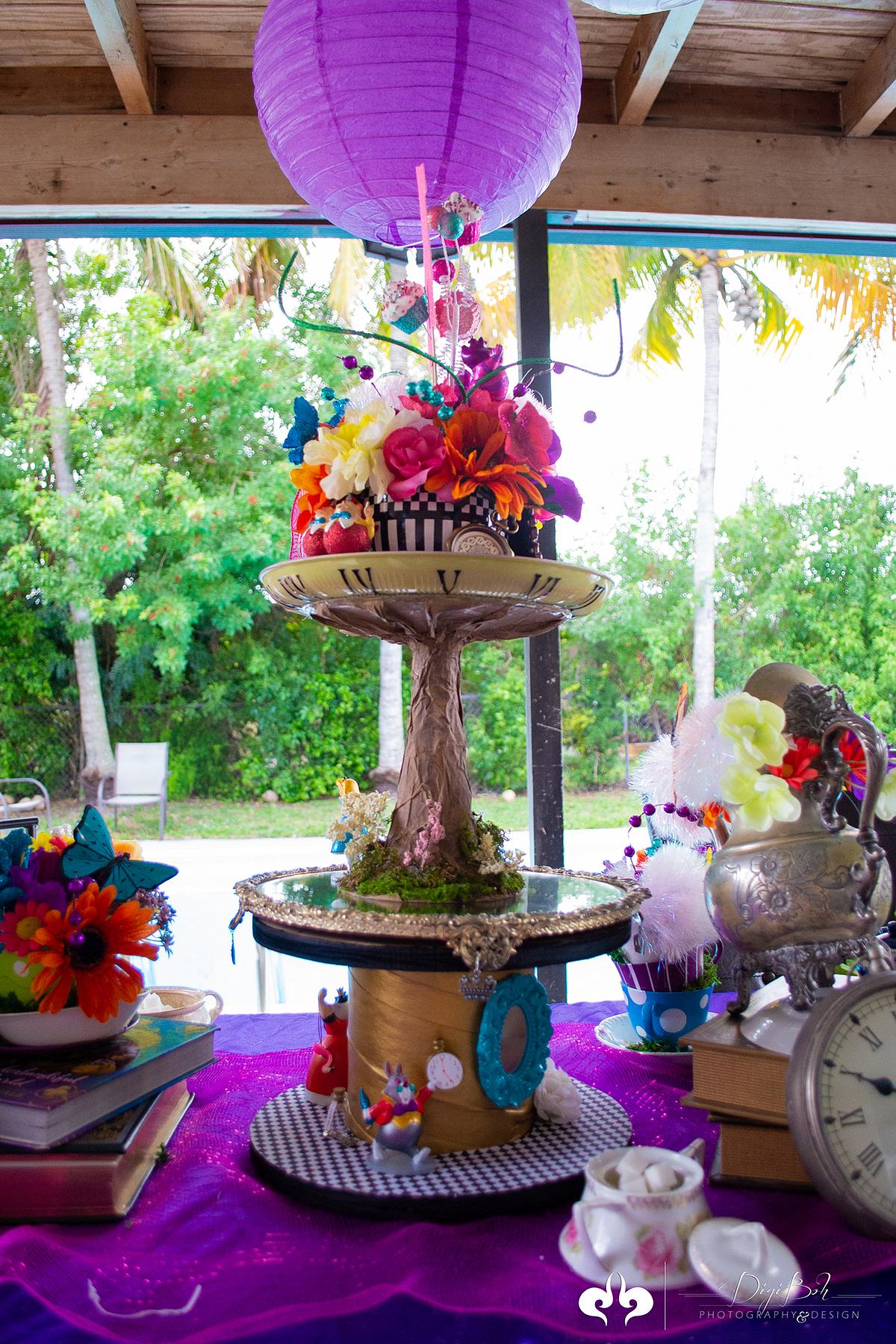 The last part of this is a few bits of details. I was able to find squishes (remember how popular and over priced those things were) that didn't break the bank and use those for food props. I custom made the Cheshire cat sugar bowel and the spilling tea cup set. Also, all the bright colored tea cups and saucers were all hand painted.  Oh and those Flamingos pens, I got SUPER lucky at the Dollar store!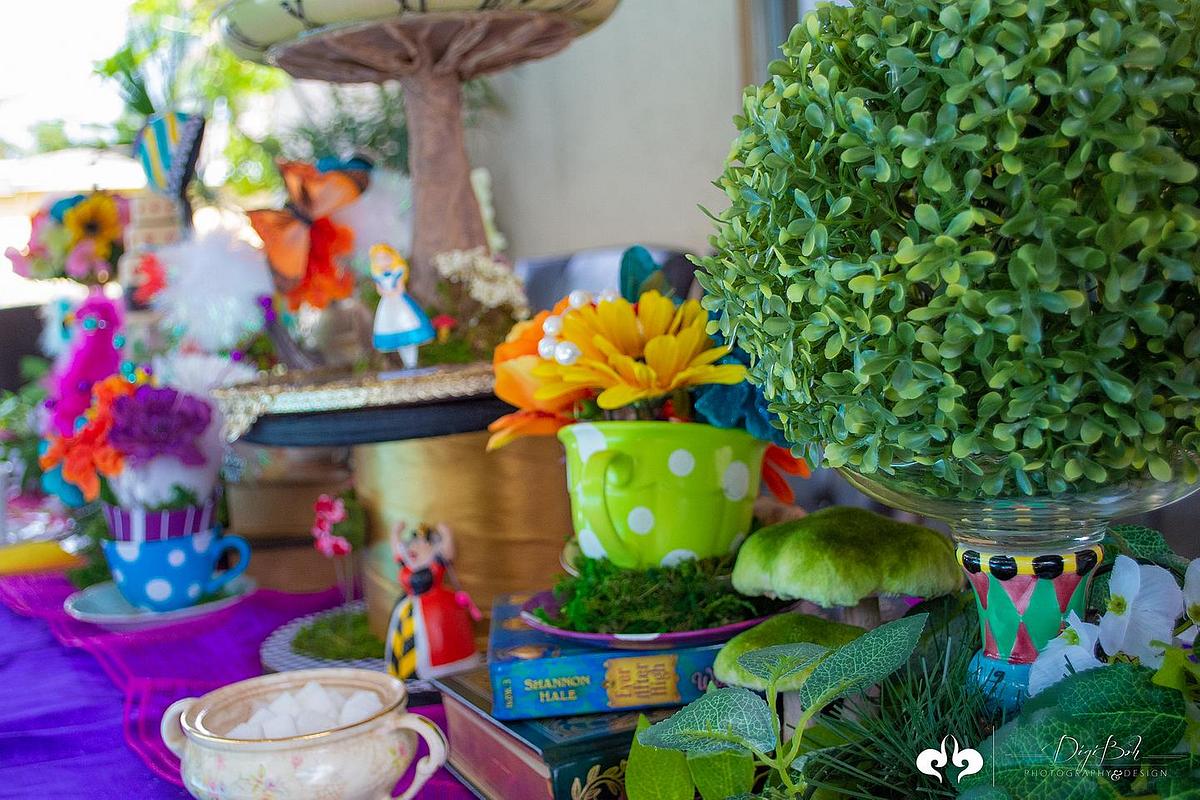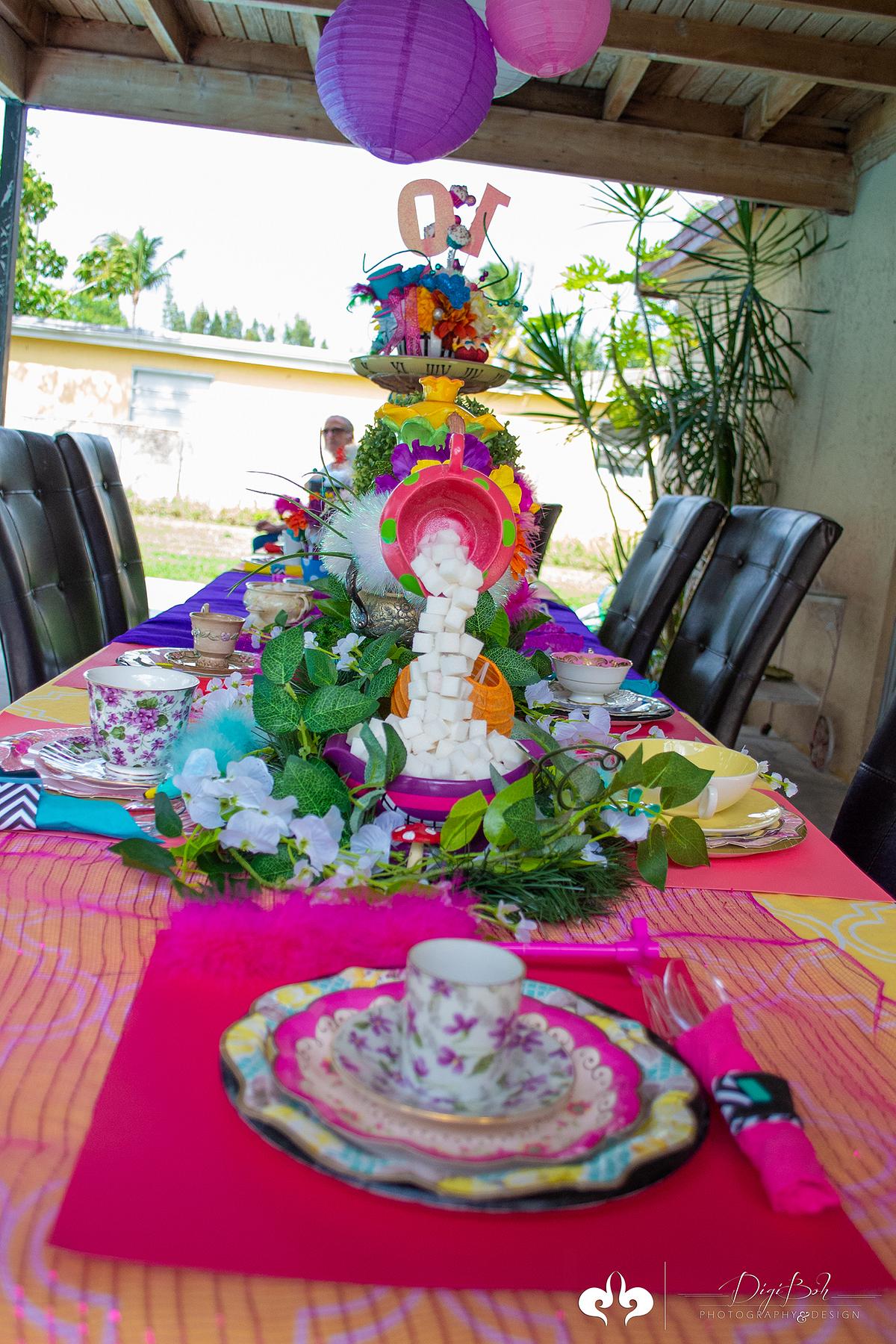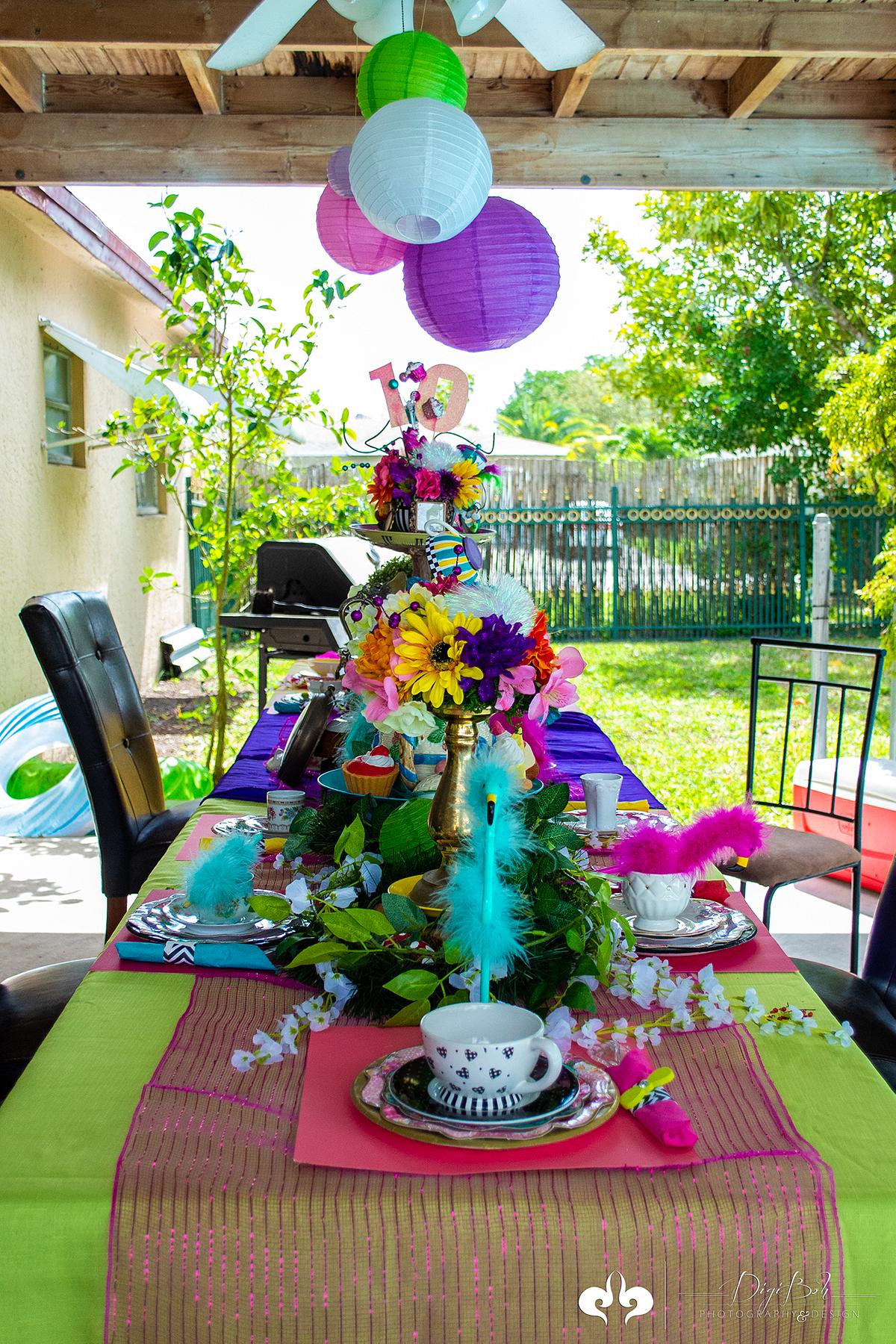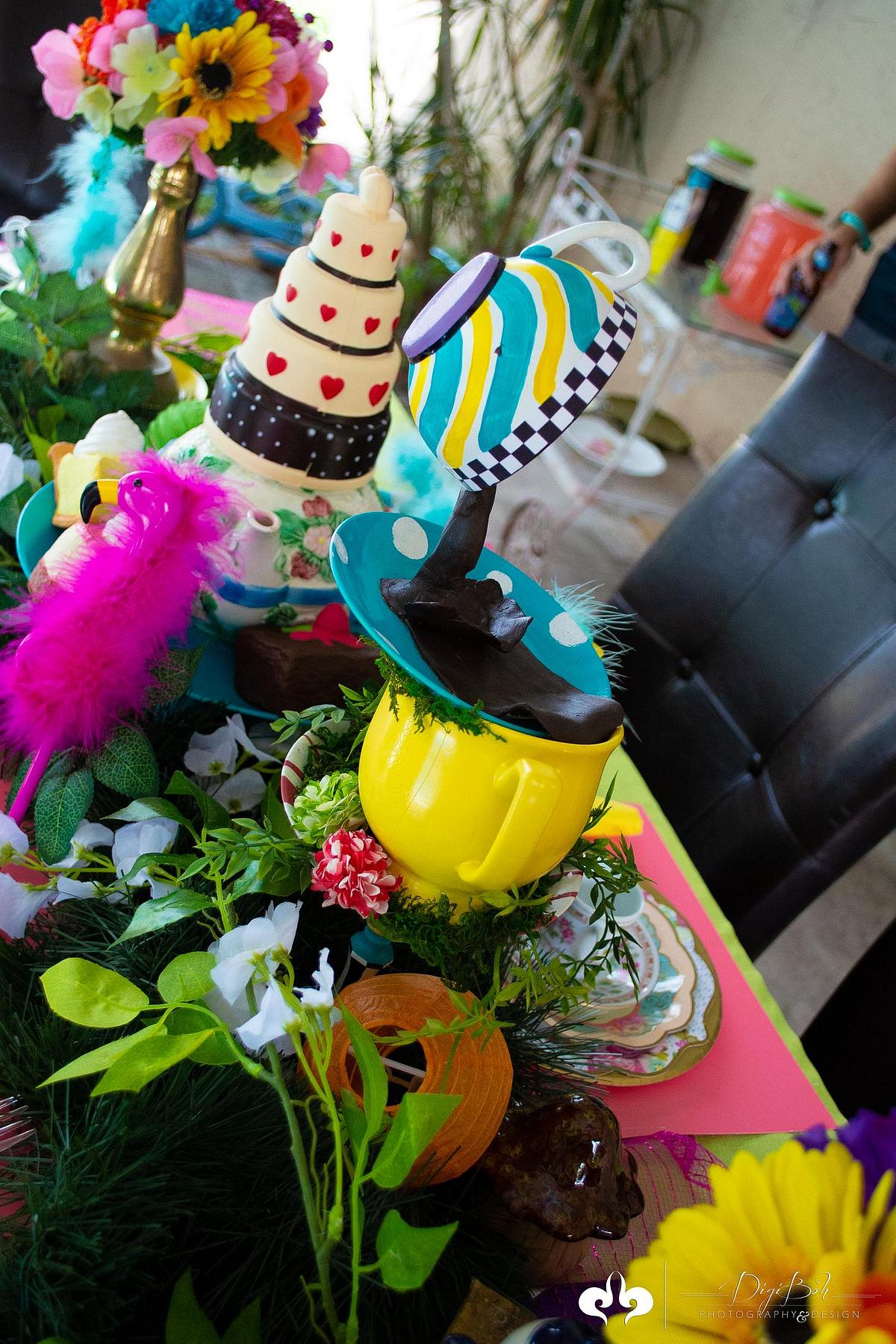 And there you have it! An Alice in Wonderland themed Tea Party! There was so much more that i wanted to incorporate and do but just didn't get the chance to make it after all this! But the kids LOVED it and the parents, well they wanted their own "tea party"! LOL